Alder Springs, Where Tradition Meets Innovation
Nestled in the embrace of the hillside, the Alder Springs house plan is a testament to the perfect fusion of classic charm and cutting-edge design. Its weathered brick exterior exudes regal elegance, setting the stage for the breathtaking beauty within.
- Sponsored, Kirk's Hardware
October 10, 2023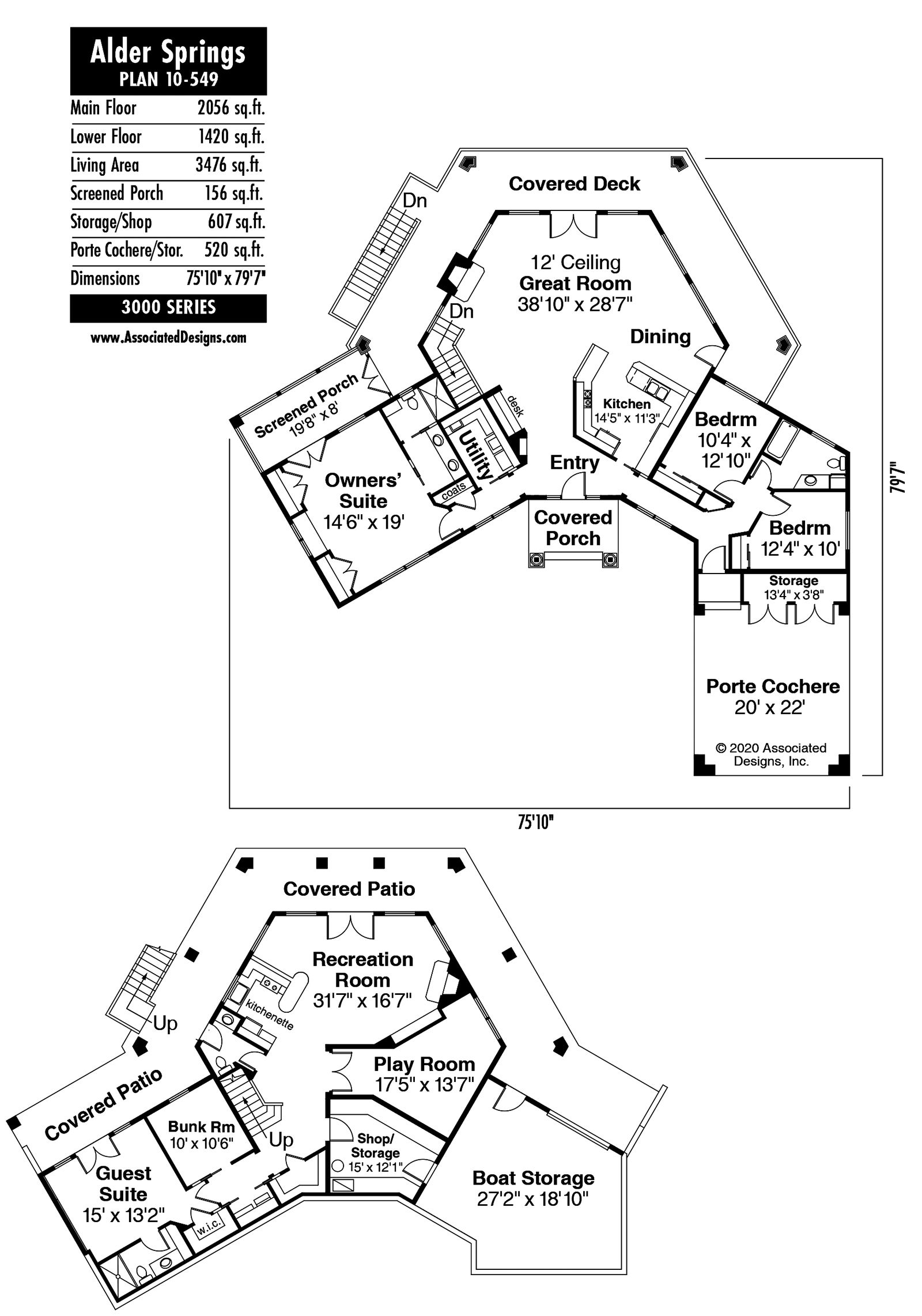 Step inside and be swept away by the grandeur of the contemporary great room, where ceilings soar to a stunning twelve feet. The unique hexagonal floor plan ensures an abundance of natural light and panoramic views that stretch beyond the imagination.
To the left, a hearthside fireplace invites intimate gatherings, casting a warm glow across the room. This is the heartbeat of the home, a place where stories are shared and memories are made.
Wings extend from the core, cradling bedrooms designed for ultimate comfort and serenity. The owner's suite in the left wing boasts a private bath fit for royalty and direct access to a screened porch, where nature's secrets unfold. While the right wing is filled with two additional bedrooms that share a full bathroom.
Descend into the walk-out basement, and a new world of possibilities unfolds. A second master suite or deluxe guest haven, a bunk room and playroom, a shop and storage space--it's a realm of potential and purpose. At the center, a recreation room with a kitchenette and a second fireplace beckons, inviting laughter and camaraderie. This nearly separate second living space makes a great consideration for those looking for multigenerational living.
Above, below, and within, the Alder Springs house plan is a masterpiece crafted with intention and passion. It's not just a home; it's a statement, a work of art, a testament to the limitless possibilities of design.
Ready to step into a world of architectural wonder? Discover the Alder Springs masterpiece and embark on a journey of unparalleled beauty and innovation. Don't miss your chance to make this viral sensation your own!
The Alder Springs 10-549 is created by Associated Designs, Inc.'s talented team of residential home designers.
☎️
Call Kirks Hardware to inquire about packages - (306) 528-2050.
Last Mountain Times Newsletter
Join the newsletter to receive the latest updates in your inbox.
Comments
---