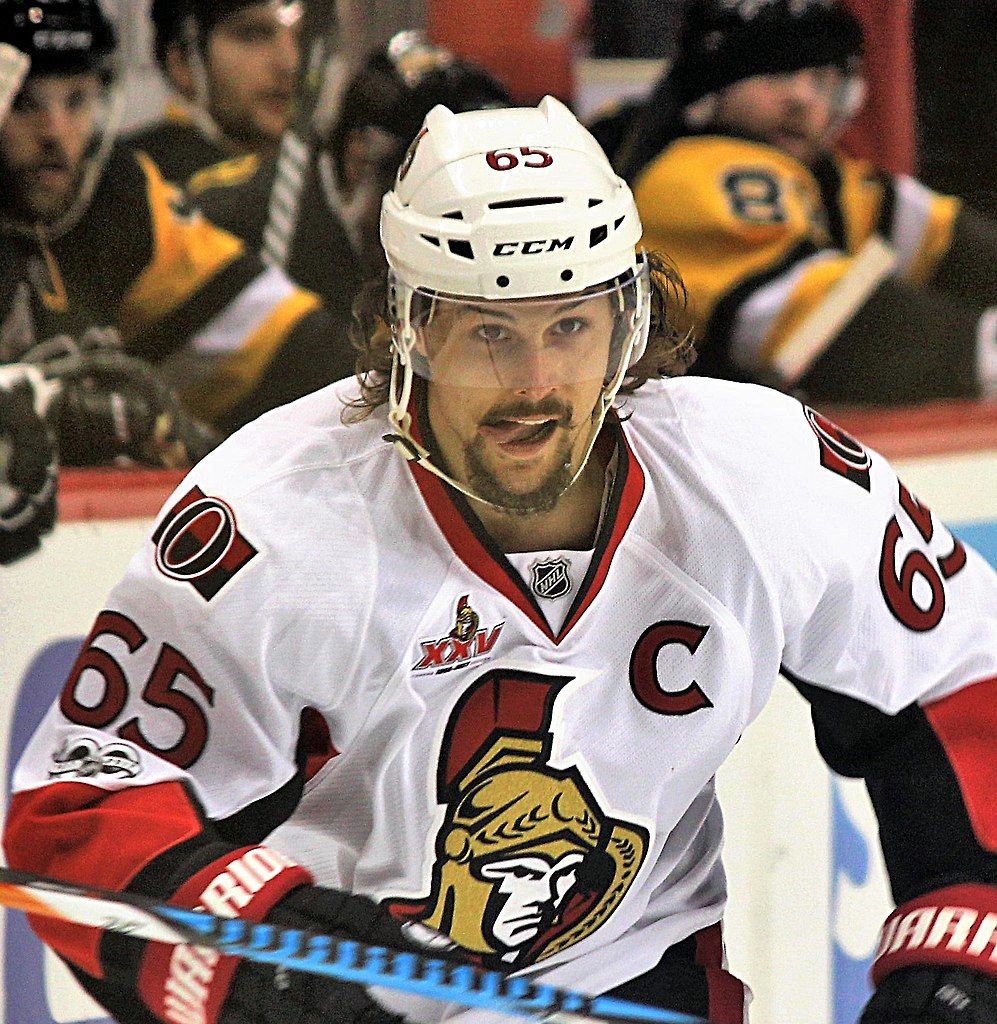 Karlsson will add 'power' to Pens' powerplay
Like a poker player pushing all his chips into the centre of the table and declaring "all in," new general manager and president of Hockey Operations Kyle Dubas of the Pittsburgh Penguins is going for the gusto in the approaching National Hockey League season.
August 19, 2023
Scanning the birthdates of players on his roster, Dubas, 37, the former Maple Leaf wonder kid who was sent packing after last season but quickly caught on with the Penguins, saw that his best players were, well, aging.
While 37 may be considered young for an NHL GM, the same can't be said for players. Sidney Crosby, 36. Evgeni Malkin, 37, Kris Letang, 36, the three pillars of the team's relatively potent power play, had perhaps two, maybe three more years of brilliance before Father Time took over.
Hence, chips all in.
Dubas struck a deal with San Jose Sharks to acquire Erik Karlsson, 33, who may or not be the league's best 'defenceman' but is undoubtedly the NHL's most potent offensive defenceman. Last year, the Swedish superstar racked up 101 points for the Sharks, 27 of them on the power play, and was 25 points better than the next highest-scoring defencemen -- Quinn Hughes of Vancouver and Josh Morrissey of Winnipeg. By the way, Karlsson also won his third James Norris Memorial Trophy as the NHL's best D-man.
Add Karlsson to the Penguins power play alongside Crosby, Malkin, Letang and perhaps Richard Rakell or Bryan Rust (Jake Guentzel had ankle surgery and will miss the first couple of weeks of the season) and it could be red-light horror for opposing teams' netminders. Crosby is one of the most creative players in the league, but Karlsson may be even better with the puck. Those two controlling the play while Malkin and Letang get into position to fire rockets could result in an offensive explosion.
Scoring powerplay goals is not the whole reason for Karlsson's presence, though. It's to try to win a Stanley Cup, and the addition of the super Swede could be an important piece of the puzzle for Pittsburgh. If goalie Tristan Jarry has an above-average season in goal, the Pens should score enough goals to be a Stanley Cup threat.
"I was very excited about the opportunity to have a chance to go somewhere where I could be on a team that is contending," Karlsson said in an NHL.com story. "It was exciting when I heard that (the Penguins) were interested, so I'm happy that it worked out in the end here."
NHL training camps don't open for about another three weeks, and while many eyes will be on Chicago and the Connor Bedard Show, Penguins fans will be excitedly watching how Karlsson, Crosby and Co. work on developing their magic to make life miserable for NHL goalies.
Headline from the onion.com: "Theatrical Farce Features Teammates, Parents, Coaches Pretending Little Leaguer's 12-Error Dribbler Was Real Home Run"
Headline at fark.com: "Anthony Davis got a $186 million contract extension to continue to get injured for the Lakers through 2028"Mike Bianchi of the Orlando Sentinel: "Is it just me or does the ACC seem to be shopping at the second-hand thrift store? The ACC adding Stanford and Cal is like your old Uncle Al coming home from Goodwill wearing a wrinkled, too-tight, out-of-style Hawaiian shirt."
Brendan Porath of The Fried Egg on the PGA Tour's 'designated' events now being called 'signature' events: "So we're continuing to work our way through the entire thesaurus to find a word that will suggest that some events are more important than others."
LIV-bashing English pro golfer Eddie Pepperell, on Twitter, after Harold Varner III said it was easier to win on the PGA Tour than on LIV: "Unlike money, brains aren't in abundance on LIV."
Steve Simmons of Sunmedia: "The Jays don't need a new hitting coach. They need better hitters."
Simmons again: "The Arizona Coyotes sent out a press release calling Logan Cooley the best prospect in hockey. Apparently, they've never heard of Connor Bedard down Phoenix way."
Comedy writer Alex Kaseberg: "Buffalo Bill Damar Hamlin played in his first football game after having a heart attack. Amazing. Once I missed a basketball game because of a case of the hiccups."
RJ Currie of sportsdeke.com: "What Winnipeg Goldeyes fans could expect at a recent 'bring your dog' baseball game: 5. Several pup flies; 4. Fair balls for the home team, growl balls for the visitors; 3. A few hound-rule doubles; .2 The seventh-inning fetch; 1. An inside-the-bark home run."
Another one from theonion.com: "England's World Cup Success Inspires New Generation Of Young Girls To Become Hooligans"
Another fark.com offering: "James Harden has expressed interest in spending next season disappointing fans in China."
💡
Care to comment? Email brucepenton2003@yahoo.ca
Last Mountain Times Newsletter
Join the newsletter to receive the latest updates in your inbox.
Comments
---