The Hanover
Step into a realm of architectural brilliance with the Hanover, a saltbox-style home plan that redefines family living. This two-story marvel sprawls across an impressive 2717 square feet, offering a sanctuary of comfort and sophistication.
- Sponsored, Kirk's Hardware
October 27, 2023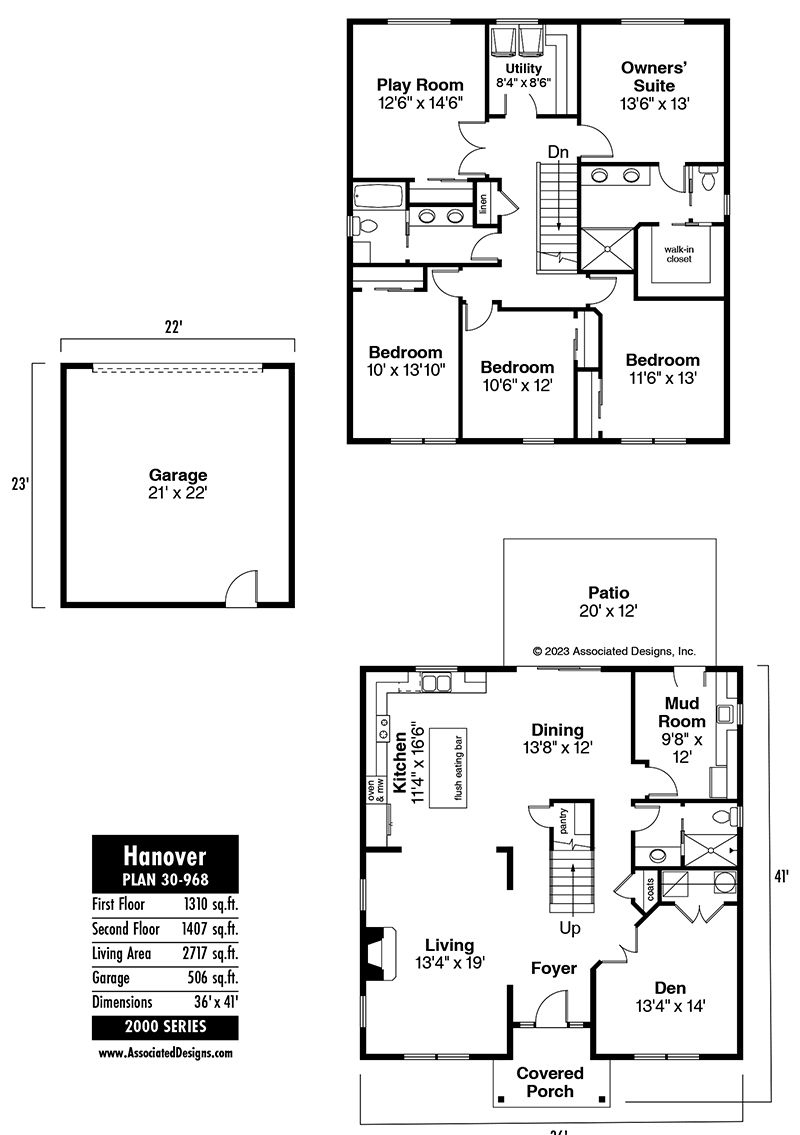 As you approach, the Hanover's striking facade captivates the eye, seamlessly blending classic charm with contemporary finesse. Its distinct saltbox roofline, a hallmark of New England design, exudes an air of timeless elegance, hinting at the treasures within.
Upon crossing the threshold, an immediate sense of spaciousness envelops you. To the right, a den awaits, bathed in natural light, poised to become your sanctuary of creativity, focus, or relaxation. The foyer extends an inviting embrace, guiding your gaze to a grand staircase that ascends gracefully to the second floor.
To the left, discover the heart of the home: a living room adorned with a cozy fireplace, beckoning loved ones to gather and create cherished memories. The open concept design flows effortlessly, marked by a generous cased opening that leads to the kitchen--an epicenter of culinary delight and family togetherness.
The kitchen boasts an under-stair pantry, a stroke of genius that maximizes storage and keeps essentials within arm's reach. A center island takes center stage, inviting culinary exploration and providing a natural hub for daily activities. Here, the art of cooking converges with the art of living.
Connected seamlessly to the kitchen is the dining room, where meals become moments, and connections are strengthened. Sunlight streams through ample windows, infusing the space with warmth and vitality.
Completing the first floor is a mud room, offering a convenient gateway to the backyard. Whether returning from outdoor adventures or simply relishing a breath of fresh air, this transitional space effortlessly marries practicality with style.
Venture upstairs, where the Hanover unveils its crown jewel: four spacious bedrooms, each a haven of tranquility and personal expression. The owners' suite, a testament to luxury, boasts a private bathroom with dual vanity--an ode to modern convenience--and a large walk-in closet, a sanctuary for sartorial aspirations.
Adjacent to the owners' suite, discover the laundry room--a testament to thoughtful design, where chores are transformed into a breeze. And then, there's the playroom, a canvas of endless possibilities. Whether destined to be a home office, an exercise studio, or a haven of imagination, this flex space adapts to your evolving needs.
The Hanover is not just a home; it's a masterpiece, meticulously crafted to elevate every facet of your family's life. With its impeccable blend of form and function, it stands as a testament to the art of living well. Welcome home to the Hanover--where elegance meets everyday enchantment.
☎️
Call Kirks Hardware to inquire about packages - (306) 528-2050.
Last Mountain Times Newsletter
Join the newsletter to receive the latest updates in your inbox.
Comments
---