McKillop council meeting highlights Oct 2023
Community survey, Earthship denied, lot dev. fees, bylaw enforcement, Road work/fences, SLGA license auction, Appeal Board Consultants
October 31st, 2023
Reports were presented to Council, including a development report regarding campers/trailers permitting within the RM. Many ratepayers have obtained permits, and a lot of properties have gone from a camper to building a dwelling after their permitted period. The RM will be enforcing property owners who are not complying with the Trailer Permit and Fees Bylaw through court action.
An Earthship development request for approval in principle was denied by Council after feedback from the community.
💡
An Earthship is a type of house built with natural and recycled materials, with energy conservation in mind. It is designed to produce energy, water and food for its own use. See more
here
The Acting CAO, Camille Box, presented an updated version of the community survey. Please call Camille Box directly to learn how to take part - 306-725-3233.
Council discussed service fees for single and multi-lot development. It was decided not to change the rates but to ensure they are supported by the service fee study being performed by Pinter & Associates.
The RM will renew the contract with Commissionaires to provide bylaw enforcement services within the municipality.
The Road Work and Fences Policy was reviewed by Council. They voted to update the rates and include provisions for considering compensation on a case-by-case basis.
The RM received a letter from Sask Gaming and Liquor [Saskatchewan Liquor and Gaming Authority] asking if Council would support the auction of a liquor License within the municipality. Council decided to support the auction of a license.
It was decided to continue using Western Municipal Consulting for the RM's Development Appeal Board and Board of Revision.
💡
According to their website, Western Municipal Consulting (WMC) provides appeal services to municipalities in Saskatchewan. Their object and mission are to provide Municipalities with a medium for appeal services with experienced personnel that provide a fair and objective appeal decision.
They report to objectively evaluate all appeals using a board of Saskatchewan Land Surveyors, Planners, Administrators, Assessors, Lawyers and business professionals.
Their mandate is to offer Municipalities an alternative for Appeal boards that may be difficult to compile within local municipalities, as well as an external Appeal Administrator able to guide the municipality and appellants through the appeal process.
They assist with Development Appeal Board - for Planning and Development Enforcement, Board of Revision - for Municipal Assessment Appeals, Professional Appeal Administrative services, Consistent appeal boardroom and all necessary equipment.
The latest event available on their website is titled:
"Preparing to refuse a development permit application"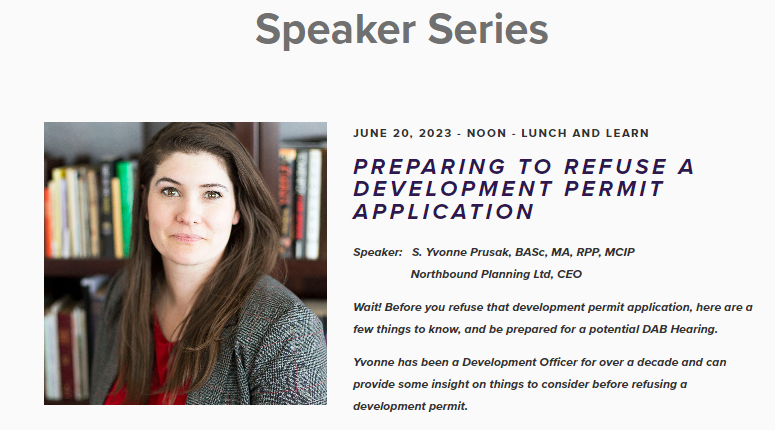 Councillor Bondar attended the Parkland Regional Library meeting and provided a report. The meeting had implications for the RM budget as there was an increase in the library levy.
Council reviewed and considered the SARM Midterm Conference resolutions and background. Reeve Bob Schmidt and Councillor Don Whitrow will be the RM's voting delegates at the conference, being held on Nov. 8-9, 2023, in Regina.
The RM office will be closed on Friday, Nov. 10, 2023, for the Remembrance Day stat.
Upcoming dates
See LMT events page: EVENTS
Last Mountain Times Newsletter
Join the newsletter to receive the latest updates in your inbox.
Comments
---