The Nottaway
Your Dream A-Frame Tiny House Plan for a Narrow Lot
August 24, 2023
Discover the allure of the Nottaway home design, where stunning beams and expansive windows harmonize with nature, bringing the outdoors in. Perfect for those who cherish the open air, this residence is a sanctuary for mountain, river, lakeside, and urban views alike. The spacious covered patio invites you to bask in the beauty of your surroundings, fostering a connection with the environment.
Drawing inspiration from the iconic a-frame style, the Nottaway's tall gable end seamlessly blends with nature, creating a visual masterpiece that echoes harmony. The thoughtful footprint, spanning only 34', makes it the ideal choice for a narrow lot, allowing you to maximize your space while preserving the charm of the outdoors.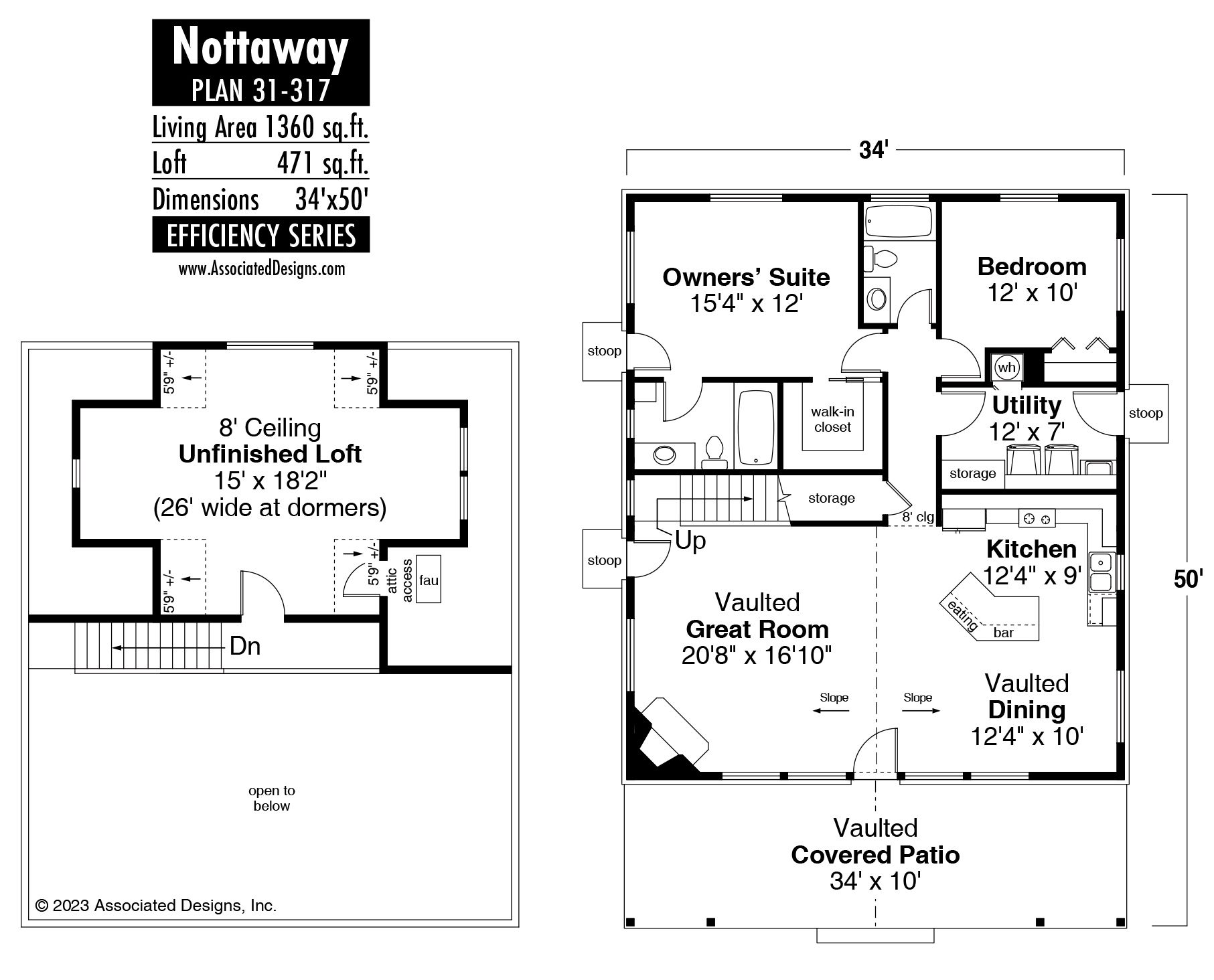 Step inside, and you'll be amazed by the ingenious use of space. The open great room occupies half of the main floor, exuding a sense of spaciousness that defies the compact footprint. A cozy corner fireplace infuses warmth into the naturally illuminated space during winter days. The kitchen, a cornerstone of comfort, features an island with an eating bar, offering both functionality and a touch of separation within the open layout.
At the back of the Nottaway, two bedrooms beckon. The owners' suite boasts its own bathroom and a walk-in closet, offering a private retreat with direct access to the side yard. The 1.5-story floor plan anticipates your evolving needs, offering a versatile loft space. Unfinished, it's a blank canvas that can morph into an additional gathering space, a haven for hobbies, or a sleeping loft for cherished guests.
Embrace the synergy of nature and design with the Nottaway, an a-frame tiny house plan crafted for the discerning homeowner. The Nottaway redefines the possibilities of compact living, providing an intimate connection with your surroundings while ensuring comfort and versatility. Experience the magic of harmonious living today.
The Nottaway 31-317 is created by Associated Designs, Inc.'s talented team of residential home designers. Call Kirks Hardware to inquire about packages - (306) 528-2050.
Last Mountain Times Newsletter
Join the newsletter to receive the latest updates in your inbox.
Comments
---