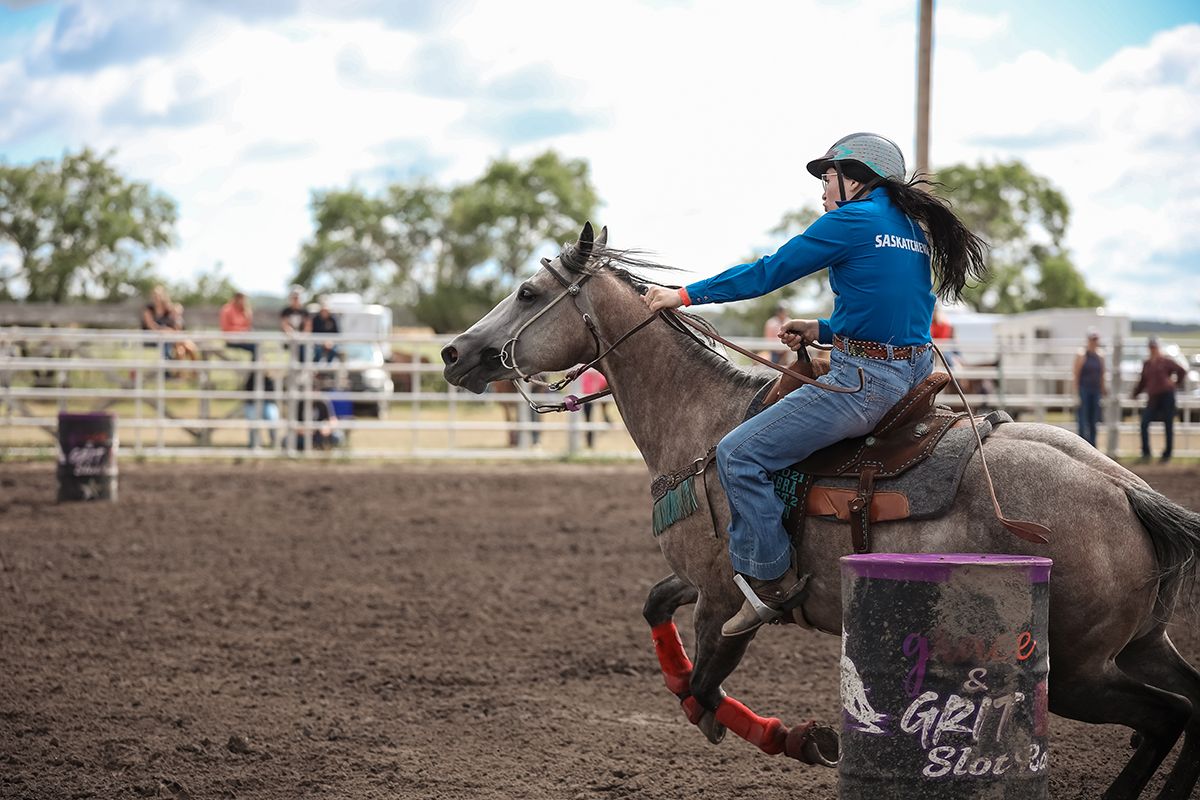 Grace and Grit - Barrel Race comes to Strasbourg
"Everbody was afraid of Covid, nobody was doing anything. I don't know about you guys but I still want to barrel race." Organizer - Alicin Braun
August 12th, 2023
What started as a way to do what they love during the pandemic has continued as an annual payout barrel race.
Alicin Braun started Grace and Grit and is the President of the organzing committee. "We started it in 2020...It was an idea just to give people something to do and still enjoy barrel racing and follow all of the guidelines. It turned into a 'Why don't we make it into a little series and get some prizes and some sponsors?'" The idea garnered such a response that they have capped entries to 250 racers -  add in peewee and youth numbers, and it's now around 350 people taking place.
The first year wasn't a "slot race," but organizers decided to change it in 2021, its second year. "A slot race means a high-stakes race..a lot of money is involved. Our race is a fifty-thousand-dollar race. It comes from each competitor's entry fee." The money is divided to the winners over five divisions and eight places each, with the top earner in each division winning $2,500.
The three-day event takes a year to plan. Braun was thankful to their sponsors and local organizers in Strasbourg for helping with the race. Despite getting caught in a rain downpour, the ground held up well. She credited local Kelly Walker for all of her work. "The ground was amazing, thanks to the [Last Mountain Rodeo] committee there. They took really good care of everybody…Anybody who knew the place was reassuring us, even the barrel racers said, this is the best ground in Saskatchewan, it does no matter if there's water on top you can ride. We went ahead and everybody had good runs."
Braun said they were shocked that there wasn't a big turnout, considering it was free to attend. They originally had it scheduled for the weekend in July, and when the RCMP musical ride wanted to come at that same time, they moved the event "for the sake of the town" to another weekend when there wasn't anything planned. She said she received feedback that competing events scheduled after they picked a new date in Strasbourg may have played some part. There is also a practical part of having more spectators. "The horses run faster when the crowds cheer."
Some horses decided to do what they wanted a few times, and perhaps the grass was greener elsewhere and wanted to be free and took off. Braun laughs, "That's at every event…They got them caught and they still made their runs and everybody was good."
What was new for the event was that they worked with a media company that live-streamed it over YouTube. "Everybody said there was no glitching, and it was really clear." The races are still available on YouTube.
With the 2023 race in the books, Braun said people can watch for the upcoming announcement on the next year's location.
Last Mountain Times Newsletter
Join the newsletter to receive the latest updates in your inbox.
Comments
---