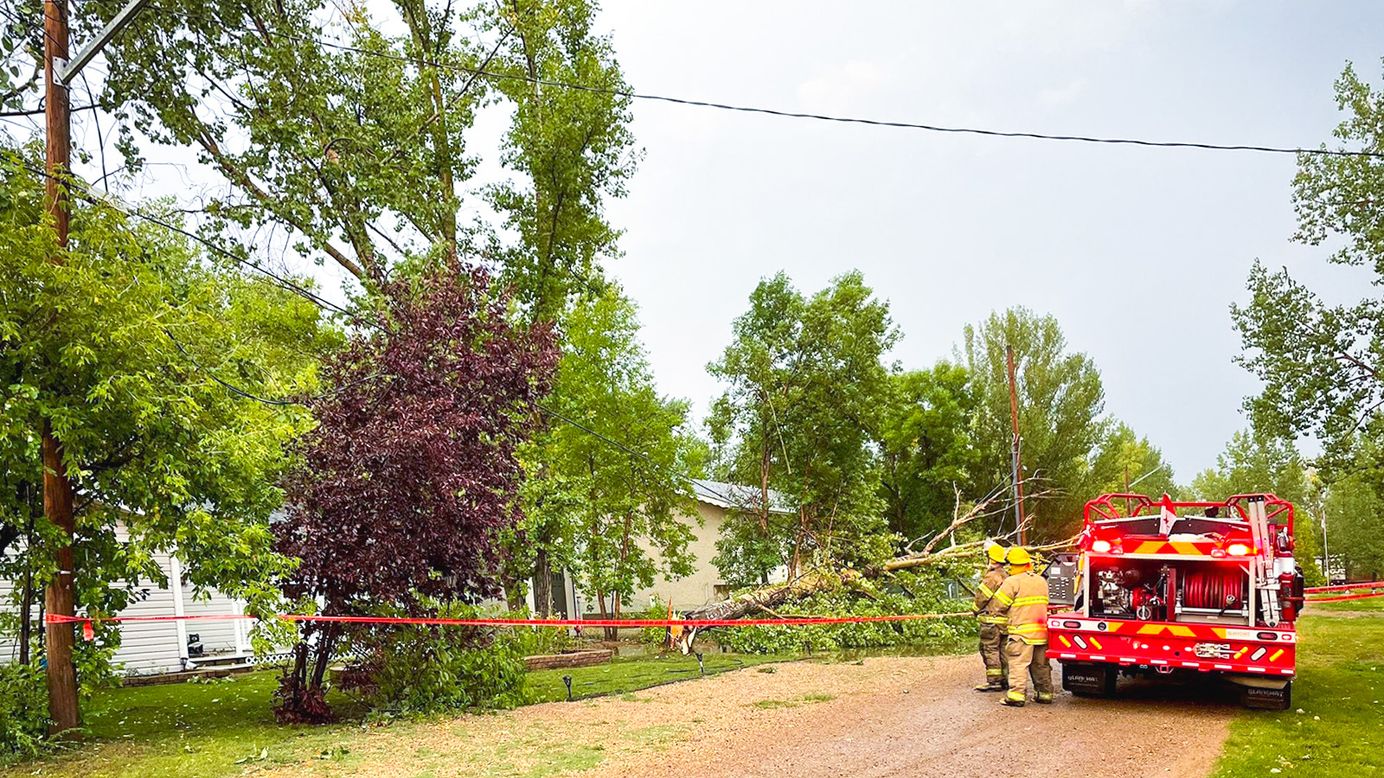 Trees and power line downed in Resort Village of Island View
Residents of Island View are thankful for the quick response from the Silton Fire Department after a plough wind ripped through the community late Wednesday. Fire Captain Corrie Coons said they attended the community after receiving information that trees were on fire from a blown transformer.
August 30th, 2023
"As we were driving up there, it was pouring rain. We didn't see any noticeable smoke from the road." Coons said when they arrived, they saw a fallen tree and a downed power line. They secured the area with tape and stayed to keep people away from the hazard until Sask Power arrived, which Coons said was shortly after they arrived.
Coons said they had a report of a plough wind that went through the area with gusts in the 90 km/hr. While they found no active fire, they saw numerous downed and damaged trees in the Village. There were no injuries.
On Thursday morning, the area was busy with cleanup, with the RV bringing in Loraas Bins to assist. SaskPower's Twitter account reported that they were working to repair the damage and estimated power to be restored around noon. Photos on the RV FB page show downed trees, an overturned pontoon boat in the water and SaskPower on site.
soupy mess
With the rain in the area, Resident Gary Wilker had some choice words when describing the condition of the road going into the Village. He called it a "soupy mess". The RV and the RM have been in mediation over the upkeep of the RM-owned road. A/CAO Camille Box said that the RM had graded it within the last month, and if there are concerns over its condition, they can be contacted to discuss it.
Coons said if people are aware of a wind coming through, they can secure lawn furniture or anything that may blow around and cause damage. "And just stay inside until the wind passes. You don't want to be stuck outside in case trees are falling."
If you see a downed power line, Coons said you could call SaskPower. "If its an immediate safety concern you can call 911 just to get emergency crews out there to block off the scene. Of course don't go anywhere near it."
Last Mountain Times Newsletter
Join the newsletter to receive the latest updates in your inbox.
Comments
---